RE/MAX Cyprus started operations in April 2016 with a mission to be the biggest real estate network on the island, and the leader in the re-emerging market of the Cypriot Real Estate with the highest standards of service.
Our philosophy is to consistently and comprehensively meet the buyers and sales associate's needs, no matter how small or big, and to offer high quality real estate services, which are continuously evolving and developing.
The RE/MAX Cyprus mission and the overall goal is not only to be a leader in our market but it is to continue to set the pace in the real estate industry by not only introducing innovative ways of buying and selling real estate in Cyprus but also by providing to our sales and letting associates ground-breaking tools and education so to empower them to thrive in their own real estate careers and provide an unsurpassed real estate service to the general public. We recruit, retain and build careers for ambitious individuals that are customer oriented.
Company Information
Number of Employees
1-50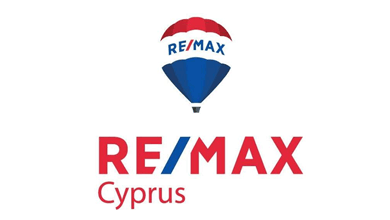 Limassol Head Office Remax Cyprus
Address & Contacts
Street Address
Ayiou Athanasiou Avenue 46 , Ayios Athanasios , Limassol 4102 , Cyprus
Contact
Working Hours
now
Normal Opening Hours
Mon:

09:00-13:00

15:00-19:00

Tue:

09:00-13:00

15:00-19:00

Wed:

09:00-13:00

Thu:

09:00-13:00

15:00-19:00

Fri:

09:00-13:00

15:00-19:00

Sat:

Closed

Sun:

Closed
Address & Contacts
Street Address
Athalassas Avenue 90 , Strovolos , Nicosia 2027 , Cyprus
Contact
Working Hours
now
Normal Opening Hours
Mon:

09:00-13:00

15:00-19:00

Tue:

09:00-13:00

15:00-19:00

Wed:

09:00-13:00

Thu:

09:00-13:00

15:00-19:00

Fri:

09:00-13:00

15:00-19:00

Sat:

Closed

Sun:

Closed
Address & Contacts
Street Address
Stadiou Street 74 , Avgoulla Court , Larnaca 6020 , Cyprus
Contact
Working Hours
now
Normal Opening Hours
Mon:

09:00-13:00

15:00-19:00

Tue:

09:00-13:00

15:00-19:00

Wed:

09:00-13:00

Thu:

09:00-13:00

15:00-19:00

Fri:

09:00-13:00

15:00-19:00

Sat:

Closed

Sun:

Closed
Address & Contacts
Street Address
Gladstonos 34 , Paulet Court , Paphos 8046 , Cyprus
Contact
Working Hours
now
Normal Opening Hours
Mon:

09:00-13:00

15:00-19:00

Tue:

09:00-13:00

15:00-19:00

Wed:

09:00-13:00

Thu:

09:00-13:00

15:00-19:00

Fri:

09:00-13:00

15:00-19:00

Sat:

Closed

Sun:

Closed
Address & Contacts
Street Address
Protaras Avenue 259 , Kyklades Complex , Flat/Office: 1 - 4 , Paralimni , Famagusta 5291 , Cyprus
Contact
Working Hours
now
Normal Opening Hours
Mon:

09:00-13:00

15:00-19:00

Tue:

09:00-13:00

15:00-19:00

Wed:

09:00-13:00

Thu:

09:00-13:00

15:00-19:00

Fri:

09:00-13:00

15:00-19:00

Sat:

Closed

Sun:

Closed